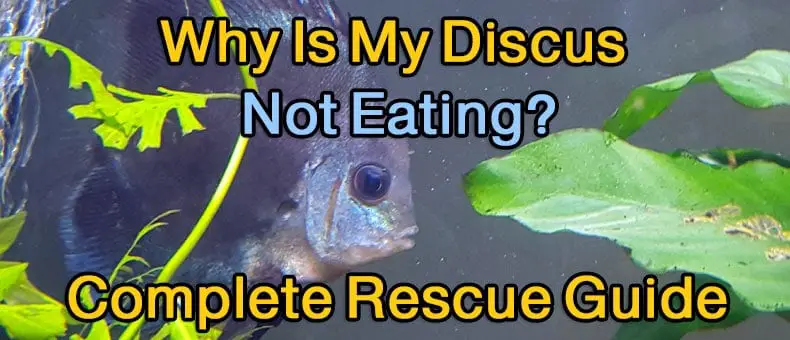 Why is my Discus fish is not eating? A discus fish may lose its appetite due to stress, and unhealthy water parameters, when introduced to a new aquarium, or Bacterial infection, etc. Discus fish also could stop eating due to prior mishandling, illness, or being bullied by other Discus fish can cause your Discus to stop eating.
Table of Contents
Why Won't My New Discus Eat? [VIDEO]
How Long Can A Discus Fish Go Without Eating?
A discus fish longer than 4inch (10cm) can last up to two weeks without eating, older ones can last up to a month without food. A discus fish has a unique adaptive feature that allows it to last for a long time without food.
This starvation may occur naturally and has positive effects on the health of the discus fish. When the discus fish is not eating, it may be less reactive in order to conserve energy.
NOTE: If the Discus refuses to eat after this space of time is has taken ill and may probably die if it is not quickly attended to.
You need to first discover why your discus fish has stopped eating due to losing her appetite as you know, there are several reasons the discus is not eating and hiding.
Reasons Why My Discus Is Not Eating
You might be wondering what to do is discuss is not eating or how do you get your discus to eat, then you should know that mainly the reasons divided into two main categories you have to check them out and decide which one matches your discus case to know how to make her eat accordingly:
Normal Behavior
Illness Symptoms
Normal Behavior
There are 6 reasons considered as normal behavior when a Discus is not eating which might be:
(1) A new discus added to the aquarium
When a new discus is presented to a new aquarium, she might hide alone, not social, and not eating for several days, and this is normal due to the fact she is new to the environment, and she will get used to it eventually within 2 to 5 days.
(2) Discus size compared to another discus
If the Discus having the issue is relevantly smaller in size compared to the rest of the discus fishes in the tank, she will not be able to catch up with the bigger sized ones, and most probably she will be bullied by one or more of them.
(3) A Discus is alone in a community aquarium
If you have one Discus in your tank with other types of compatible fishes, then this is 90% the reason why she is not eating, Discus are very sensitive fishes and need to be gathered with its kind for at least 5 to 6 fishes of close in size in one tank; otherwise, she will feel lonely, scared and stress thus she will not eat.
NOTE: You might also notice her color will be darker when she is stressed.
(4) Water Parameters are not healthy
If the water parameter is not healthy, she will be calm in the corner of the tank or might be swimming on the top of the water near the water surface.
NOTE: You should always consider checking your water parameters like Ammonia, pH, nitrate, nitrite, KH, GH, CI2 … etc., there is a special kind of testing kits and solutions to test and stabilize your water parameters.
(5) Water Temperature is low
As I stated, Discus is very a sensitive fish and lives in a relevant warm water environment, so check your water temp if it is below 28c, then this might be the reason behind your Discus is stressed and not eating.
NOTE: raise the water temp by a water heater to 82 f (28ºc) if you have plants in the aquarium, or by min of 86 – 89f (30 – 32ºc) if you have no plants, better to keep it within this range for perfect discus environment.
(6) Lack of Oxygen in the water
You can easily identify whether you have a lack of oxygen in the tank when you see your Discus remains in the top of your tank, breathing near the surface, and doesn't go down to eat, then you should know you need to add more air bubbles.
If you have plants in the aquarium, then most probably you have a Co2 cylinder that adds Co2 to the water; this will reduce the oxygen ratio in the water, and definitely, you need to provide oxygen air pumps.
NOTE: Remember that the water filter pump (outside the tank version) is not a sufficient source of oxygen, consider buying a small air pump motor and bubble stones to increase the oxygen.
Illness Symptoms
Symptoms
You have to of necessity be sure to pay attention to your discus when you see the following signals:
Loss of appetite.
Thining out although they're eating well.
White spot infection/Ich.
Skin sores.
Jerky Swimming.
Staying in the corner of the tank.
The above are symptoms of Diseases that a Discus fishes could have, and such symptoms are signs of imminent disease, of which some types are treated below:
Disease Details and Causes
Tuberculosis
This is a mycobacterium that is found everywhere, including in food remnants, debris, or bottom gravel.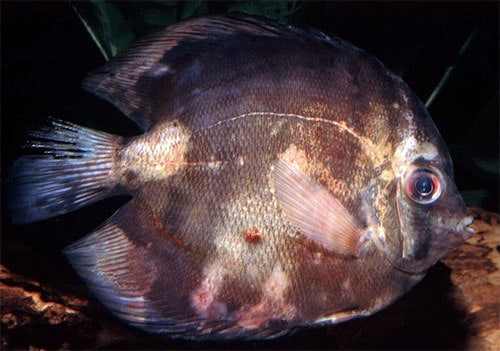 The symptoms of the tuberculosis disease may include:
Emaciation.
Loss of appetite.
Open skin sores.
Staying in the corner of the tank.
Tuberculosis occurs when your discus is:
Weak.
Crowded
In a poor living environment.
Tuberculosis can be transmitted from one fish to another through skin or gills. If not realized early, it can lead to the death of your Fish. The water in your aquarium should always be clean and free of food crumbs or dirt, which can cause bacteria to infest. When it gets to the stage of skin sore, which appears as if chunks turn out with bleeding at the edges, it is critical already, and it is very rare to successfully treat the discus back to full recovery.
NOTE: Irrespective of the slim chances of the Fish to recover, you have to do your best, and while doing that, you should protect your self because this disease is contagious to humans also.
Tuberculosis Treatment
[STEP 1] – Quarantine the Fish to a smaller tank filled with properly tested water to avoid it contaminating other fishes and to enable you to treat it effectively.
The most effective treatment to administer to your Fish is Kanamycin + Vitamin B-6 for 30 days.
NOTE: A good source of this vitamin B-6 is the baby Vitamin; it is available in any pharmaceutical around you.
[STEP 2] – Add one drop of this vitamin to every 5 gallons of aquarium water.
NOTE: Always replace the vitamins based on the amount of water that is changed in the tank during treatment time.
Future Prevention Tips
It is difficult for you to know if your discus is ill except you see visible symptoms, mycobacteria can be in the body of your discus for some time before the symptoms begin to fully manifest, so preventive measures are very necessary.
Boost the immune system of your fish by feeding them properly and keep them healthy and happy in a good tank condition; by this, you limit their exposure to mycobacteria.
Fishes who are weak and wounded should be isolated in a quarantine tank and treated there till they are healthy.
New Fishes should be quarantined before joining the main aquarium.
Plants and all equipment should always be sterilized before and after use.
Fin and Tail Rot
It is caused by pathogens, which include- Flexi bacter columnaris, Norcadia, mycobacterium, etc.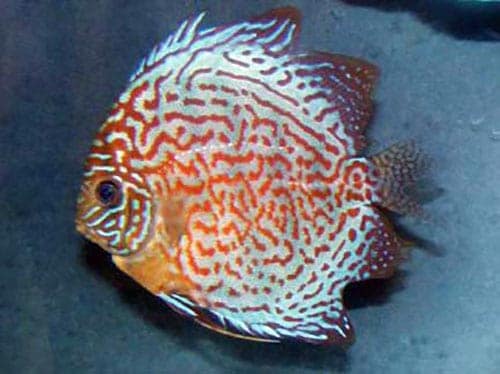 It's symptoms includes:
White coloration at the edge of the Discus fish.
The fins appearing ragged and split.
Inflaming of the base of the fins.
Rotting away from a part of the fin.
When the Fin or tail of your Fish begins to rot, that means that your aquarium is bacteria concentrated. This disease often simultaneously occurs with other diseases and difficult to cure when it is in a more advanced stage.
The cause of the fin and tail rot disease could be:
When a discus fish is bitten by another, the open part can be infested by a bacteria which if not taken care of, can eat your Discus to death.
Poor water conditions in the aquarium.
Stress resulting from moving the discus too often.
Overcrowded aquarium.
When the discus is living with more aggressive fishes.
Fin and Tail Rot Treatments
[STEP 1] – Quickly quarantine the Fish with the symptoms in a separate mini tank that is filled with properly tested water.
[STEP 2] – Treat the water condition in the main tank immediately to remove toxins and ensure other Discus are not infected.
[STEP 3] – Clear activated Carbon from the aquarium filter because it will remove drugs from the water
Future Prevention
Always keep good water quality.
Maintain properly balanced feeding for Discus fishes.
Maintain proper water level.
Dropsy
This is a bacterial infection that causes the body of the discus to swell and eyes to pop out.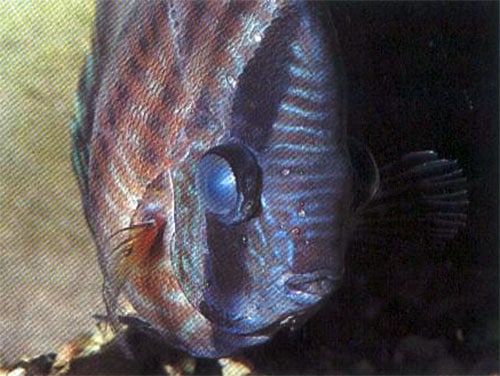 Dropsy disease symptoms include:
Loss of appetite.
Swelling of the Fish's stomach and most times the whole body.
Bulgy eyes.
Behavioral changes.
This is easily detected because of the swollen belly of the discus, it is not contagious but can have dangerous effects on other fishes in the aquarium if not quickly taken care of.
Dropsy is caused by stress due to overcrowding and mostly affects fishes with poor kidneys.
Dropsy Treatment
[STEP 1] – Isolate the sick discus to a quarantine tank, to enable you to change the water easily.
[STEP 2] – Create a salt bath by adding a maximum of 1 to 2 tablespoons of Epsom salt to every 10 gallons of water in the quarantine tank; the magnesium sulfate will help reduce the water in the body of the discus fish that caused it to swell.
[STEP 3] – Feed your infected discus fish with anti-bacterial fish food containing antibiotics like chloromycetin and tetracycline either you purchase, or you make it at home.
[STEP 4] – Lower the water pH to the range of 6.0 this will prevent the ammonia from being toxic in case your filter is infected thus, it will reduce the stresses in your sick discus.
[STEP 5] – If your discus starts eating, add Discomed medicine to your discus food.
[STEP 6] – Observe the infected discus for 7-10 days if there's no improvement then treat with Maracyn 2 incase if the infection is from the skin of the discus.
Future Prevention
One of the most effective ways to prevent dropsy disease is to maintain proper water quality, staying on top of the routine by changing 25% -30% of the water volume weekly.
Hexamita
The disease called Hexamita and it's basically a bacterial infection that attacks the discus internal organs.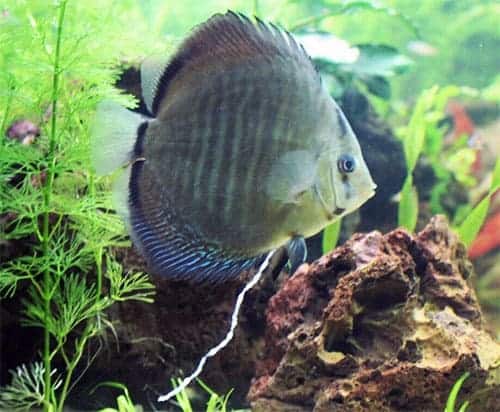 Hexamita disease symptoms:
Loss of appetite.
White pooping.
Hole in the head.
Hexamita could be transferred to your discus in different ways:
Infection from a newly introduced discus fish having the Hexamita bacteria.
Might show up on the Discus fish due to continuous stress.
By infecting fish food.
NOTE: Hexamita could kill your fish eventually if you do not treat it quickly.
Hexamita Treatment
Follow the full detailed Hexamita treatment from my other article which covers everything related to Hexamita link to Discus Hexamita Disease – Metronidazole Complete Cure Guide.
Future Prevention
Do not put a newly purchased discus or other fish in your main tank.
Before presenting the new fish to your tank.
Keep an eye on your water parameters.
Do a weekly 25 – 30% water change.
Always put an air pump in your Discus aquarium.
Do not feed your discus frozen worms.
Do not feed your discus flakes.
Clean your filter.
Conclusion
In taking care of the discus fish as an aquarist, you need to be properly educated on the entire behavior of the discus so that you will be able to detect when something has gone wrong in your aquarium. Proper water quality is always paramount and quick attention to the discus will always be more effective.
The discus fish is fragile and needs a lot of care. If there are no improvements in treating any of the diseases, you should quickly visit a pet doctor.